Is America ready for a compact pickup?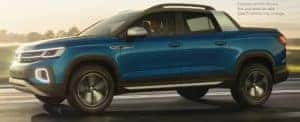 Volkswagen has made a lot of vehicles over the years. After all, you can't make a car for the people without thinking about the different needs those people have. From the Buses and Beetles of the '60s, VW has evolved over time into compact cars, hot hatchbacks, and seven-seat SUVs. Now Volkswagen is asking if there isn't a place in the world for a compact pickup, and presents the Tarok for your consideration as what could be the perfect family vehicle for the modern world. With a specialized compact bed, VW again reimagines the pickup concept, but for most the allure of the Tarok will be the 5-seat cab, marrying mid-size SUV passenger comfort with added function. For modern families, a trip to a home improvement store in the Tarok would allow for almost any purchase you might make on the weekend, from a gas-burning grill to grass seed, gravel, and gardening tools, while still letting the whole family travel in style and comfort and being maneuverable enough to swing through busy parking lots, neighborhood streets, and fit into parking spots at the kids' daycare or the office parking lot.
The Tarok would offer a payload of over a ton, with an adaptive bed extending out to 73″ in length, meaning it's still a practical pickup for building projects that require boards and planks over 6 feet. It's currently a 4 wheel-drive setup running on a turbo 4-cylinder 1.4 litre engine, but for the US market we would probably see a 2.0 TSI version. What do you think? Would you like the see the Tarok cruising U.S. 1, the PCH, or your own street? Let us know what you think of this VW compact pickup in the comments!