Everything We Know About the VW ID. Buzz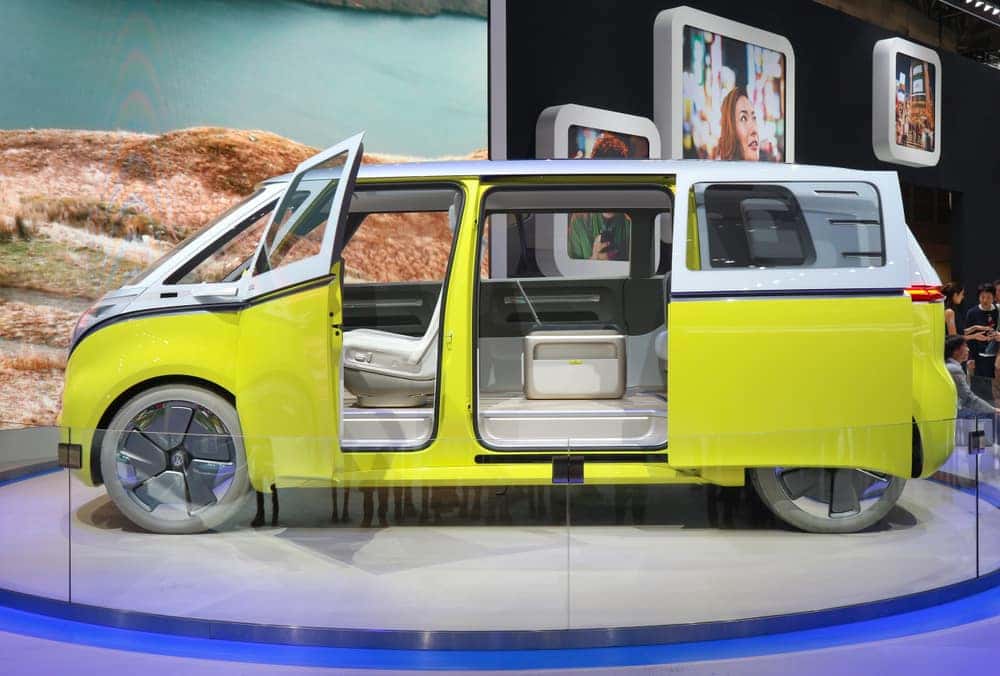 Funky meets functional in the long-awaited Volkswagen ID. Buzz. This all-new electric van's styling is a throwback to the iconic VW bus – with several modern updates that encourage drivers to recalibrate their "inner fun compass."
The VW ID. Buzz's grand debut is scheduled for 2023, leaving industry experts to speculate about the particulars. While not every detail has been revealed, one thing is for sure: this new Volkswagen deserves all the buzz about it!
Back to the Beginning
The original Volkswagen bus has historic roots, starting as a symbol of the anti-war movement in the '60s and '70s. While it didn't run on good vibes alone, the VW bus became associated with the "hippie" movement that swept America. Peace signs and cheerful paint colors distinguished the VW vans from other vehicles on the road, with huge steering wheels to match the spacious nine-person interior!
A Modern, Electrified Spin on an Icon
While the 2023 VW ID. Buzz preserves its predecessor's free-spirited nature, innovative technology pushes it toward the future. Equipped with powerful all-electric motors, the VW ID. Buzz is expected to reach 300 horsepower (all-wheel drive models). Volkswagen's press releases confirm that there will be several charging options to choose from – with a rumored 300-mile driving range on a full charge! Drivers will likely be able to power up at any AC charging station.  
The line-up is expected to include these three options:
Long wheel-base design: Most closely resembles the traditional VW bus with 3 roomy rows of seating

Short wheel-base design: Offered exclusively in European markets

"Ride-hailing" design: Expected to be the most unique design, with rear-facing middle row seating 
No matter which model you choose, don't miss the smiley faces on the front door handle alcove!
A New Age of Technology
This electric van will be packed with all the latest tech standard features, including:
Easy-to-use touchscreen

Heads-up display

Wi-Fi hotspot 

Multiple charging ports 

Rear entertainment system
Visit Your Local VW Dealership in Mount Pleasant!
Volkswagen may find inspiration from its past, but its focus is on the future as it continues to develop more electric cars to add to the line-up. In the meantime, check out the VW ID.4 – a popular electric SUV! The Volkswagen ID.4 not only spares you pain at the pump, but offers the convenience and cargo space of a small SUV. 
Here at Low Country Volkswagen, we also stock a variety of traditional, gas-powered models – new and certified pre-owned! Whether you're looking for a versatile compact crossover or a stylish Jetta sedan, we've got you covered. As locals' trusted Volkswagen dealership in Mount Pleasant, we're proud to serve customers throughout the city of Charleston, SC and the surrounding areas.
Stay tuned for more details about the all-new 2023 VW ID. Buzz and other upcoming electric vehicles! And stop by today to check out our inventory!